the data that drives the industry
Successful call routing, rating and billing all depends on the one thing: access to the most accurate, timely and comprehensive data available. That's where iconectiv TruOps Telecom Routing Administration (TRA) comes in. As the industry standard for more than 30 years, TRA is the U.S. telecom industry's go-to source for reliable and precise information on call routing, rating and billing.
the numbers tell the story
TRA ensures you have the data you need to ensure the reliable completion of calls and text messages throughout the U.S., Canada the Caribbean, and the rest of the North American Numbering Plan (NANP). Since 1984, it has been the one-stop shop for routing, rating, billing and numbering assignments. It offers users the most precise and up-to-date data available, with:
800K+ block records
200K+ Central Office Codes (NXX)
49K+ switching entities/point of interface
Image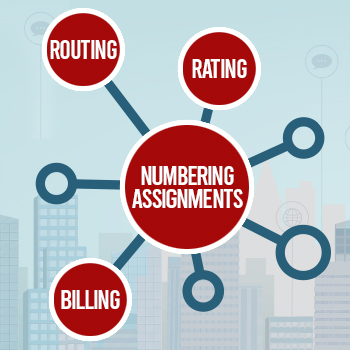 accurate data, straight from the source
TRA provides the data you need to enable completion of Public Switched Telephone Network (PSTN) calls in the NANP. Since TRA data comes directly from the service providers and agencies that assign all numbering, it's always the most accurate and up-to-date. Access to this critical information improves network planning, decreases operational costs and helps prevent revenue loss.
TRA easily integrates into your operational processes, applications and ecosystem thanks to its superior flexibility. Its data can serve as the centerpiece to a wide range of critical business functions including: routing and switch translations, network planning, maintenance and grooming, interconnection, customer lists and database updates, signaling, new service and product introductions, rating and billing, forecasting and regulatory and legal support.
Enterprises also benefit from TRA's precise data. Uses include: Geographical Information Systems (GIS) applications, locator services, financial services, customer relationship management (CRM), call center management, law enforcement, mapping and many other applications. The LERG™ Routing Guide contains up-to-date information about the local Public Switched Telephone Network (PSTN) and IP Networks, info about future activity associated with these networks, and provides routing details to support interconnection agreements, proper routing and successful completion of calls – ultimately saving companies time and revenue.
the industry's most trusted data
Managing the billions of calls and texts sent every day is a Herculean task. TRA data makes the whole system run seamlessly and securely. Learn how it helps 600+ wireline, wireless and interconnected VoIP service providers, competitive local exchange carriers, and value-added resellers accurately route calls and keep their networks optimized.
maximize network accuracy, efficiency and profitability
As the industry's most trusted data resource, TRA provides data in standard, easy-to-access formats as opposed to self-contained applications. This design enables rapid, convenient integration of the data into specific business applications, internal databases and operational processes. TRA also includes comprehensive customer care and technical assistance to answer your questions, and help you better understand the data.
TRA improves network planning and supports network maintenance and configuration changes. Our data's accuracy and timeliness is of the highest quality. This allows you to avoid the operational and financial risks that could occur by using delayed, limited, outdated or incomplete data provided by other sources.