Image

your gateway to efficiency and customer satisfaction
iconectiv TruNumber Gateway serves as the critical link between a service provider's internal operations and the outside world. It connects you to national clearinghouses, dramatically simplifying and expediting the entire portability process.
With TruNumber Gateway, you can coordinate your back-office systems and automate portability transactions — including updating network elements on number porting changes. This empowers you to maximize your call completion rate with less costs and fewer errors.
seamlessly manage number porting
The ubiquitous iconectiv TruNumber Gateway processes an incredible 95% of the wireless porting transactions in the United States and Canada thanks to its unparalleled numbering information. You can rely on TruNumber Gateway to help you enhance customer service because it delivers faster and more accurate responses to subscriber port requests. It also gives you a more in-depth look at your rich data. The information TruNumber Gateway provides, such as what types of subscribers are porting into your network and where they are coming from, can help you more rapidly identify emerging market trends.
No wonder it's the gateway to efficiency and customer satisfaction.
Image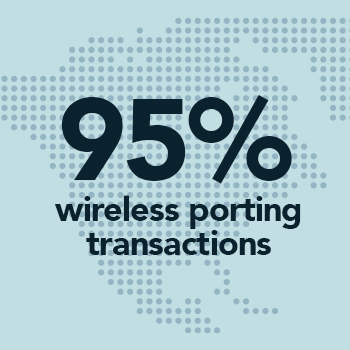 integration and automation from the inside, out
TruNumber Gateway is secure, high-availability, high-capacity and fully compliant with industry requirements. Use it to efficiently manage volume transactions in a cost-effective manner, creating an automated, elegant flow-through porting process. The result: service providers can benefit from a graceful migration, while consumers can take advantage of a remarkably simple, consistent process at every step.
Rely on TruNumber Gateway to: 
Generate revenue faster by porting new customers in less time with fewer errors
Reduce operating costs through end-to-end automation
Minimize deployment delays by avoiding unwieldy, unreliable in-house custom-built tools
Continuously monitor your porting process and spot abnormalities early
Respond to porting requests within timeframes specified by regulators, avoiding possible penalties
Utilize standardized protocols to interface service provider back-end systems
how Gateway helps service providers
Porting numbers enables new revenue opportunities for service providers. However, if the process is handled poorly, it can result in exactly the opposite: lost revenue, dissatisfied customers and damaged brand reputation. See how TruNumber Gateway makes porting seamless for customers and efficient for service providers.
nobody understands porting better than iconectiv
At iconectiv, we are number porting experts, with more than 20 years' experience. We serve the top service providers in the US and Canada, manage 100% of all wireless porting transactions in Canada and 95% of pre-port transactions in North America. Wireless, VoIP, cable and wireline service providers throughout North America rely on iconectiv's expertise, unparalleled service and industry-best solutions.
Available as a turnkey solution or as a managed service from a service bureau, TruNumber Gateway offers flexibility and a choice of CAPEX or OPEX based models. Whichever is right for you, it will enable you to focus on your core business of delivering the best quality service to your subscribers.