Image

enhance trust across all communication channels
New technologies have changed how brands and consumers connect. But it has also led to unforeseen challenges. For example, there is an increased demand for toll-free number provisioning. Illegal robocalling and caller-ID spoofing have become global challenges that impact consumers and businesses worldwide. Federal regulations, industry guidelines and the complex communications ecosystem have made securely sending and receiving voice calls and text messages increasingly complex for service providers, businesses and consumers alike.
At iconectiv, we understand how to overcome these challenges. It's the idea behind our TruReach platform. It's designed to simplify processes and restore trust in communications.
The selection of iconectiv as the STI-PA is a major milestone in putting SHAKEN into action, a top industry priority critical to restoring trust in the voice network.
Image

reliability, integrity in communications
The growing volume of spam and scams amidst legitimate communications makes it more challenging for businesses to efficiently reach consumers. The iconectiv TruReach platform features three unique products that help you stay engaged with clients in today's always moving economy by simplifying the process needed to help restore consumer confidence and trust in communications.
Image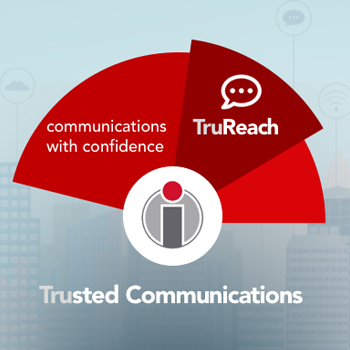 learn more about iconectiv TruReach
Your telephone is the essential tool for interacting with the world. Yet despite its ability to exchange information simply, seamlessly and securely, consumer confidence in the communications continues to wane. Why? Because bad actors misuse and abuse communication networks.
As a result, confidence in the communications industry and new technology is declining. At iconectiv, we are dedicated to helping you navigate this ever-changing landscape. Our TruReach platform helps you enhance trust with your customers, create new ways to engage, and simplify the entire process of communication.
engage successfully with TruReach
Staying engaged with clients in today's always moving economy and driving conversational commerce requires building that engagement on a foundation of trust. Find out how TruReach lets you strengthen relationships and drive revenue.